MONOCHROME PHOTOS (BLACK & WHITE)
Monochrome means one color, usually black and white, but mild coloration can be a bit more pleasing to the eye than black and white.
Sometimes the colors get in the way of appreciating an image. The pink sand of Cappedocia just looks odd to someone outside of central Turkey. The orange desert colors of Morocco are intense. The brown water of muddy rivers lacks appeal. Garish colored clothing can draw too much attention away from what the subject of the image. These are not issues with Monochrome Photos.
But Monochrome has its own appeal in drawing attention to lines, shapes, patterns and contours.
Our eyes and brain evolved to see color. We are so used to seeing things in color, a monochrome image often makes us pause, look a little closer. Instead of our eyes following the colors we see the lines, shapes, patterns and contours.
Below is a selection of images that are monochrome. These images also appear in other categories of the Image Catalog as noted.
So, if monochrome is your thing – check these out!
On the Move
August, 2006
BNL0806-WR
Also in Abstract, Closeup, Surreal
Heavy fog one morning in Barnegat Light coated everything with water droplets, including the table on our porch.
Dune Curve Morocco
April, 2012
MOR0412U-NR
Also in Abstract, Closeup, Surreal
Sunset on the dunes near Merzouga. We spent two nights there – magical!
Self Portrait
January, 2019
PAH0119
Also in Abstract, Closeup, Surreal
Went downstairs to investigate a noise that woke me up at 3 AM. Wandered into this set of shadows. Got my camera and capture this image. Can't say I understand it!
Car Curves
May, 2019
PAK0519
Also in Abstract, Closeup, Surreal
Friend's 1935 Ford, on display at the Chester County Antique Car Club Show in Kimberton. Love the curves!
Kimmel Curves
April, 2017
PAPHL0417B
Also in Abstract, Closeup, Surreal
The beloved Kimmel Center on Broad Street in Philadelphia – I have seen many performances in that venue, especially the Philadelphia orchestra in the Verizon Hall – I love the place! Especially its intriguing architecture! But as is often the case, it took a visit from a friend to get me there with my camera. This angle is hard to find, by the way.
Calf-roping at a Rodeo in Big Timber, Montana
Kayaker maneuvers past House Rock on the Madison River, Montana – its as big as a house!
Street acrobats in New Orleans. Yes, that's a third guy on the top. The crowd loved it!
Full Steam, Strasburg Railroad
September, 2013
PASR0913B-NR
Also in Action
Woa! Get off the tracks buddy! Actually the old steam engine at the Strasburg Railroad is going about 5 mph. So I'm not in eminent danger of getting run over. But the engineer was happy to play his part.
Ron's Teaser on the Chair
May, 2016
PAWR0516A-NR
Also in Action
My Pilates Teacher, Lisa Priebe, doing a piece in the Fletcher Pilates repertoire called Ron's Teaser, captured at the apex of movement. Seems simple but it's not. A classic example of strength and flexibility!
Middle Creek Wildlife Preserve is a place that attracts migrating snow geese.
Stork Supper
June, 2007
TU0607I2-WR
Also in Animals & Insects
Second night in Turkey, at this second floor restaurant in Selcuk after touring the incredibly intact Roman ruins. Across the street was this very large stork's nest on a telephone-pole like post. Mom and Dad would drop by to feed the kids. That's a Roman ruin in the background.
Looking Good
May, 2021
SD0521B
Also in Animals & Insects
Photographing a herd of bison in Custer State Park in South Dakota, this fellow gave me a good look, still decked out in his winter finery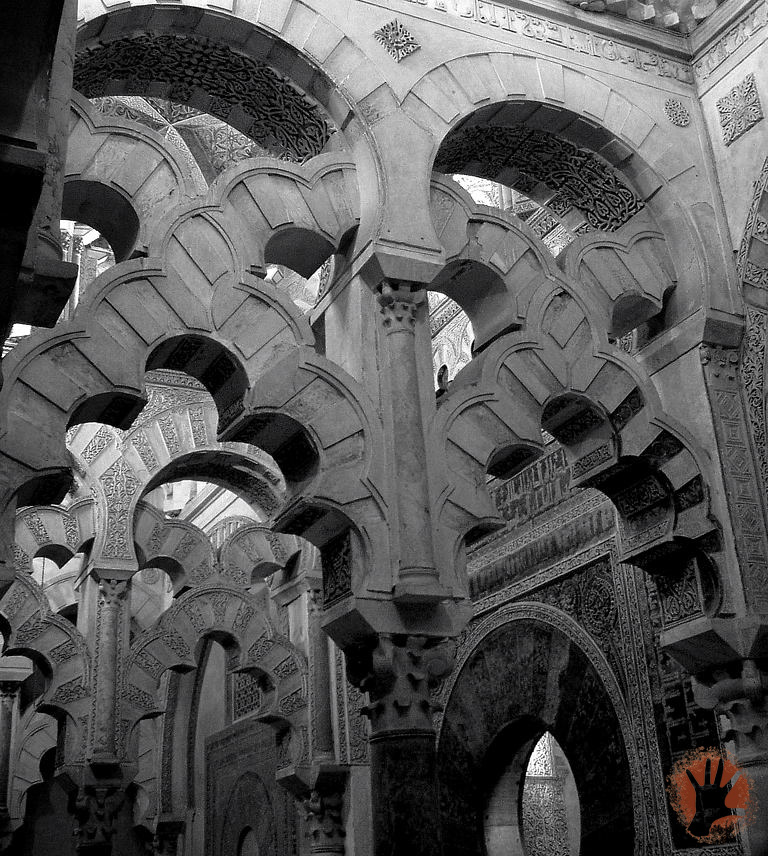 A maze of arches in the great mosque of Cordoba (711). After the Reconquista a Roman Catholic cathedral was erected in its center (1500s) – it's that large!
The Conversation
November, 2018
PAHPW3
Also in Gardens & Interiors
A view out the window in what seems to be living quarters at Hopewell Village, a colonial iron community near Saint Peters, PA. The positioning of the chairs suggests they once supported a conversation.
To May Lake
July, 2013
CA0713B-WR
Also in Landscapes & Seascapes
First day on the High Sierras Trail hiking from tent camp to tent camp. Those clouds built into a large storm by the time we reached camp.
The endless dunes of Morocco. We spent three days in the dunes. Magical!
First morning in Bali, the time zone difference woke us up early in the morning to catch the sunrise in this exotic part of the world.
Yellowstone Cross Country
MT0207D
February, 2007
Also in Landscapes & Seascapes
Cross Country skiing in Yellowstone heading out across a broad plain.
Sunrise Moroccan Desert
April, 2012
MOR0412G-NR
Also in Landscapes & Seascapes
After our first night in the desert of Morocco we got up early for the sunrise. I had my tripod all set and these two people walked into the scene – thank you!
Breaker In Hurricane
September, 2010, completed 2019
BNL10B-WR
Also in Nature & Weather
Hurricane Earl grazed Barnegat Light the night before into the next day.  Even at dusk Earl was still kicking up a strong wind, fighting the breakers as they crashed!
Moroccan Desert – we rode camels back into the dunes and spent the night in a tent cabin. On returning the next day we encountered this guy taking the camels out for a walk.
Same trip to Southern Georgia but visiting Amelie Island. This girl was riding into the gulls for her father's photo. I think I got a better
Spinning Tops
June, 2008
BI0608M2-NR
Also in People at Work & Play
The Balinese take spinning tops seriously. These are big tops. Bets are placed on the best top. I'd give this guy extra points for style! Oh, the onlookers are ducking from the whiplash of his rope.
Balinese dancers take on the spirit of their Hindu gods in such poses.
Detroit Bass Day
August, 2015
MI0815-WR
Also in People at Work & Play
So once a year the bass players in the Detroit area get together for a fun day of jamming. They start them young in Detroit.
Upstretch on the Reformer
May, 2016
PAWR0516B-WR
Also in People at Work & Play
My Pilates Teacher, Lisa Priebe, doing a piece in the Fletcher Pilates repertoire called Upstretch, captured at the apex of movement. She is teaching but I'd say she is also having fun.
Overnight Camel Trek
April, 2012
Also in People at Work & Play
What would normally be a caravan, just my wife and I were walked on camels into the Moroccan desert near sunset by our guide to for an overnight stay.
Barrel Riding in Montana
A triptych
June, 2009
MT0610I
Also in Panoramas, Composites & Triptychs
Big Timber Rodeo, again, this time barrel riding.
Below is a suggested arrangement of the three images.